The Hobbs Difference
| | | | | | |
| --- | --- | --- | --- | --- | --- |
| | Uses less concrete | 2 years of engineering development | Easier to assemble | Requires less labor | Greenest ICF system available |
| Hobbs Vertical ICF Wall System | | | | | |
| Typical ICF blocks | | | | | |
The Hobbs System includes 2 years of rigorous testing, allowing engineering to develop a product that eliminates the problems of typical ICF blocks
Rigid performance testing from Iowa State University
The Hobbs design is widely supported and accepted by licensed engineers throughout North America

x
xx

Uses 40% less concrete and has 33% more insulation than typical ICF blocks
Our system has been engineered and optimized to place concrete precisely where it is structurally required for strength, reducing the amount of concrete by, as much as, 40% compared to a typical ICF block systems
Less concrete means more room for thicker foam panels for more insulation and a higher R-value of R-30*, which is between 25% – 33% better than typical ICF blocks
x
The greenest ICF system available! More product, more insulation!
The Hobbs System uses components consisting of materials derived from recycled content and is considered to be the most environmentally friendly ICF system available
The Hobbs systems "contour wall design" achieves a superior insulation value of R-30* by using less concrete and more foam insulation
Energy-efficient design means a reduction in the size and cost of your HVAC equipment – you could save 50-70% in utility costs every month of every year
The Hobbs System uses 50% less labor than typical ICF blocks
Our Fail-Safe Locking Grid Design™ makes our Hobbs Vertical ICF Wall System the straightest, fastest, and most user-friendly ICF ever
The unique vertical panel system is a one piece, full wall height; wall former's can work primarily from the ground, resulting in a safer, faster, and easier assembly
Easy, user-friendly installation accelerates construction schedules
Optional designs gives you project-by-project flexibility
A built-in drainage plane in our standard contoured design means no added furring strips are required as recommended by many siding manufacturers

Flexural Strength Capacity Testing for Hobbs Vertical ICF

By: Dr. Max L. Porter, Brandon O. Viland
Iowa State University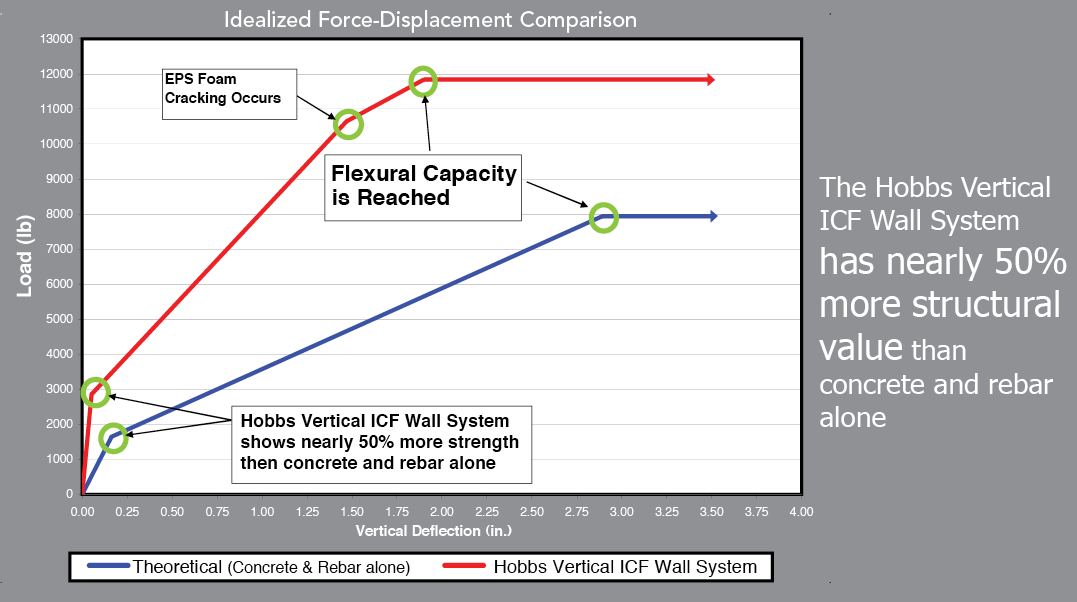 Report Highlights:
"The results of the flexural testing determined that the flexural capacity of the "Hobbs Wall" system benefits substantially from composite action; reaching an average flexural strength capacity of 14.56 k-ft for the 4 ft wide full-scale wall specimens tested, an increase of approximately 4.80 k-ft over that of a comparable
reinforced concrete section that was analyzed."
"The Expanded Polystyrene (EPS) foam acts as the formwork for the concrete core, as well as a very effective insulator."
"The EPS foam forms achieve an insulation R-Value of + R30*; making the home or business more energy efficient and saving the owner money on heating and cooling bills."
"With the price to heat a home as it is today, there has been an increased urgency to use energy efficient building methods in both the residential as well as the commercial spectrum."
"ICF construction is a desirable alternative to standard masonry wall construction since the ICF wall contains insulation within the system itself. ICF walls also do not require interior framing on which to attach the drywall or interior finish since there are dense rigid plastic strips embedded vertically every 16 inches*."
"All these properties that are inbuilt with the ICF wall system reduce the number of trades required on the job; and therefore, reduce the expense of manual labor as well as effectively expedite the progress of the project."
Click here to download the full Flexural Strength Capacity Testing report conducted byIowa State University.
Click here to download the Fastener Pull-Out Capacities testing also conduced by IowaState University
* Based on our "Contour Wall" design which is Hobbs proprietary "Modifed Post & Beam Design"