The Hobbs Difference
Uses less concrete
No weakened joints and seams
Easier to assemble
Requires
less labor
Straightest
ICF system available
Most current ICF technology available

Hobbs Vertical ICF Wall System

Typical ICF blocks
More product. More intelligence. More R-value.


The Hobbs Vertical ICF Wall System is

much more technologically advanced

than typical ICF blocks
The Hobbs System uses

50% less labor

for installation than typical ICF blocks
Uses

57% less concrete

than a conventional 8" poured wall

As the Hobbs System requires less physical labor than typical conventional forming systems, it has adapted to the changing basic lift requirements of wall former's

By using, as much as, 40% less concrete and 50% less labor than typical ICF blocks, the Hobbs System makes it much easier to do more with the same man-power which can make you more profit
Although both typical ICF blocks require special braces that are used for alignment (ICF Bracing), the Hobbs System is compatible with "ICF Bracing" however, they are not required to straighten and align the wall like with traditional ICF systems. You can use masonry scaffolding and planking with out having to rent or buy expensive ICF braces.
The Hobbs System has

adapted to the changing industry landscape
The rising costs for raw materials and fuel is driving up the price of a cubic yard/meter of concrete, making Hobbs a more competitive wall system and even more attractive in areas where concrete costs continue to rise
The Hobbs design has been engineered to only place concrete where it is structurally necessary, reducing the amount of concrete to, as much as, 40% less than typical ICF blocks
Less concrete means more cost efficiency, allowing the investment to be applied directly to the bottom line
The Hobbs System uses 50% less labor than typical ICF blocks increasing productivity, allowing foundation and wall contractors to pass on competitive pricing to builders and homeowners
The Hobbs System is

much safer and easier to install

than typical ICF blocks
EPS foam wall panels are light and easy to handle

The ease of installation requires less skilled labor and less heavy lifting, which opens many doors to access untapped work forces
Installation is safer as former's work primarily from the ground with considerably less time spent going up and down scaffolding
The inherent design eliminates costly errors such as forgetting to place the rebar with-in the wall
Our retainer clips and horizontal rebar holders with-in the system make it quick and easy to place rebar
As the Hobbs System is vertical, panels can be left out and installed later to create openings in the wall, making it easier to get materials in and out of the work-space
The Hobbs System has no weakened joints or seams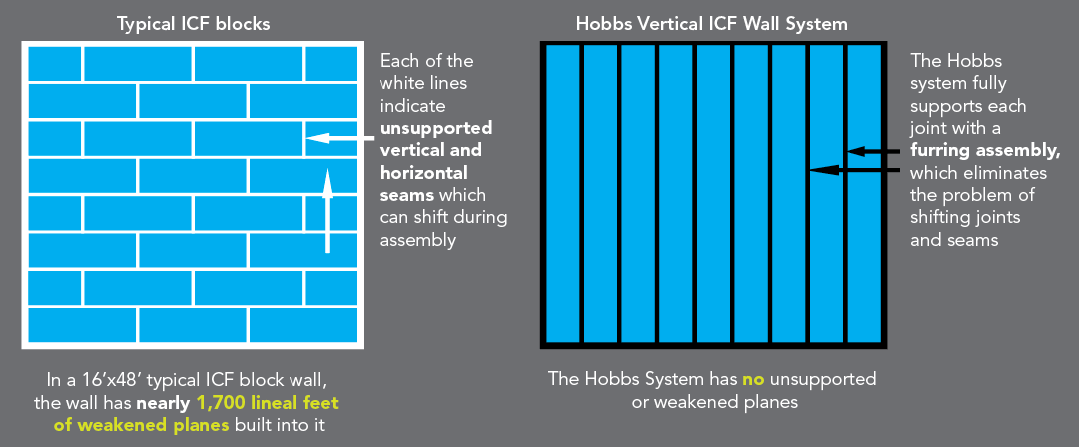 No unsupported horizontal and vertical seams that tend to shift as in typical ICF blocks
Innovative metal with-in the tees and corners are the strongest of any ICF
Our Fail-Safe Locking Grid Design™ means no snaking, bowing, or wavy walls
Level walls mean a true, straight surface ready to accept drywall and exterior finishes
It's easy to make the switch
to the Hobbs Vertical ICF Wall System
The Hobbs Vertical ICF Wall System is very similar to putting up wood/aluminum wall panels, so all the skills that wall formers have picked up over the years using this method can be applied when installing the Hobbs System
Minimal initial capital investment is required to augment your current wall system with the Hobbs Vertical ICF Wall System
The Hobbs system is VERY easy to learn and the learning curve is very short for you and your employees
Crews will adapt quickly to the Hobbs System because they can stay in their comfort zone of vertical panel wall forming
The terminology currently used on the job site by wall formers is easily applied to the Hobbs System
Many existing poured wall contractors already have the infrastructure in place to excavate the foundation, form and pour the footings and walls, place the drainage tile, place the gravel on the tile and under the basement floor
To maximize efficiency and value, use the Hobbs System for the main walls of the new home, and use your existing panelized system for garages and porches where engineering is not required
Many skills and tricks-of-the-trade learned from conventional wall forming and ICF block assembly can be applied to the Hobbs Vertical ICF Wall System
Both conventional forming systems and Hobbs Vertical ICF Wall Systems:
Start out with erecting and plumbing a corner, and each corner has an inside and outside wall component
Connect the inside and outside vertical wall forms with wall ties or the Hobbs equivalent (furring assembly)
Are put up full height from the ground level
React similarly at corners and tees