The Components of the Hobbs Vertical ICF Wall System: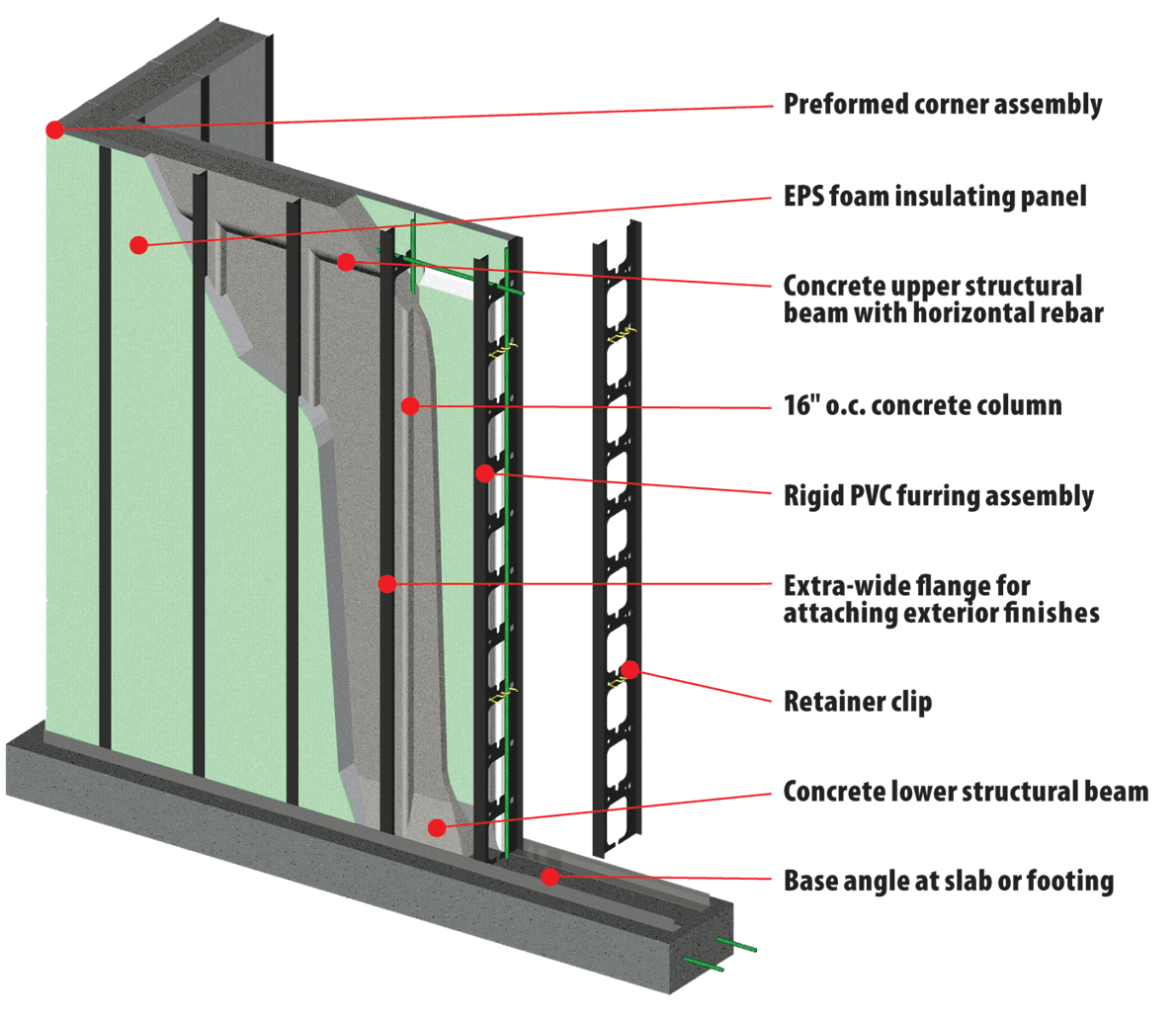 The Hobbs VICF unique design combines the best of ICF technology and traditional construction techniques. Use the Hobbs VICF Wall System for residential and commerical basement, slab-on-grade, and multi-story exterior wall applications.
The furring assemblies and retainer clips of the Hobbs VICF system are made from 100% recycled post-industrial waste, meaning there are ZERO trips to the landfill during the manufacturing process.
 EPS Foam Insulating Panel Option Types
(Contoured Design)

Designed with both a concrete lower structural beam and an upper structural beam
Contoured design is spaced at 16″ o.c.
The proprietary foam insulating panels allow concrete to flow easily with minimal vibrating
The web created by the foam panels between columns and beams maximizes the walls' insulating value placing only as much concrete structurally necessary without wasting concrete and provides 7 1/4" and 7 7/8" of foam insulation
Panels are available in both standard and stucco ready designs. The standard contoured design exposes the furring assemblies (studs), while the stucco ready-design adds an additional 5/8" of EPS foam (R-value) and hides the studs within the foam panel allowing for a direct applied E.F.I.S. or stucco finish
(Flat Wall Design) 
xEPS Foam I
Flat Wall design can be used through out an entire project as shown above or used with our contoured design around window/door openings, beam pockets or excessive point loading. When used with our contoured design engineers specify the locations flat wall must be used for additional structural strength on a project by project basis
Flat wall is spaced at 8″ o.c. and is a solid 6″ nominal concrete thickness through out the form
Panels are available in both standard and stucco ready designs. The standard design exposes the furring assemblies (studs), while the stucco ready-design adds an additional 5/8" of EPS foam (R-value) and hides the studs within the foam panel allowing for a direct applied E.F.I.S. or stucco finish
Flat wall is used often in high seismic and wind loading zones where "special" rebar detailing is required structurally
Furring Assemblies (Rigid PVC Studs)

Positioned every 8″ and/or 16" o.c. spacing depending on our "contoured" or "flat wall" designs
Horizontal rebar holders are integrated into the furring assemblies for easy rebar placement
Extra-wide 2 1/2" flanges run the full height of the walls on both the exterior and interior sides of each furring assembly to provide a generous surface for attaching exterior and interior materials, such as drywall and siding. Our optional "stucco ready" design hides the furring assemblies with-in the foam panels for direct stucco applications
Made from 100% post-industrial recycled PVC for incredible fastener pull-out strength
Even the "voids" that are die-punched during the furring assemblies manufacturing are re-ground and put directly back into our furring assemblies
Retainer Clips

Retainer clips are snapped in place near the top and bottom of each furring assembly to secure the foam insulating panels and vertical rebar during assembly of the Hobbs VICF Wall System.
The retainer clip also has 2 vertical positioners in order to optimize the placement of the rebar for added strength and as specified by engineering
The completed wall system is designed to work with a standard concrete mix, unless the project's engineering design requires a different specification
Made from 100% recycled ABS plastic
Base Angle

Attached to the concrete slab or footing
The base angle is installed to ensure that the Hobbs Vertical ICF Wall System will maintain the exact dimensions of the structure
Aligns the wall system
Made from galvanized sheet metal
Preformed Corner Assembly

The strongest reinforced steel corners of any other ICF, which significantly reduces the requirement for bracing
Eliminates blow-outs and movement
For example our 90 degree corner has 10.5" of total attachment area for interior and exterior finishes
Set a corner assembly once and never do it again – the Hobbs corners keeps walls accurate, plumb, and true
Design allows for nearly any angle without cutting, tying, gluing, or taping
Inside corners provide 2.5" attachment surface area
Tees

Design provides generous attachment area for the inside corners
Reduced labor and added strength
Allows flexibility to position tee at any location the project requires
Less bracing is required